Summer Reading 2020
Summer reading is a fun program designed to engage all age groups in exploring new ideas, books and activities. As you read books and engage in the activities, you are eligible to win badges and prizes. The best way to track your progress is through the Beanstack app or web site. Beginning June 1, 2020, you can start recording your reading time and participate in the activities, located exclusively in Beanstack.
This summer we want to challenge ALL (adults, teens, and kids) of Westwood to a community-wide reading goal!
Can we all together read 10, 000 hours this summer?
First step is to sign up and get reading!
Read and track your books, participate in learning activities and earn prizes all on our new Beanstack website and app!
Summer Reading begins June 1st.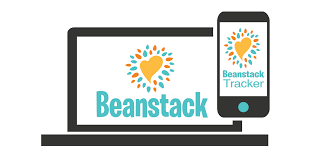 This summer due to COVID19 we will not be handing out paper logs and will be exclusively using Beanstack to track reading so we recommend that you create a Beanstack account. Parents can also create accounts for their children. In Beanstack, you can view the available activities, enter the books you have read, write book reviews and more. You will receive raffle tickets as you progress and be entered into drawings at the end of the summer. To register, visit the Beanstack website or login through the app.
Click here to access Westwoodlibrary.Beanstack.org

Beanstack app available for iOS and Android.
Beanstack will automatically direct you to the appropriate activities based on your age. There are four age groups: birth-prek, kids, teens and adults. If you wish to be contacted about prizes and drawings, please include an email address or telephone number as part of your Beanstack profile.
Want to learn about the Kids Summer Reading Program? Watch the below video by Westwood Media Center to find out how it works and what we have planned!
KIDS grades K-6: Choose between tracking either the time you spend reading OR how many books you read (you will choose one of these two challenges on Beanstack) and earn raffle tickets for every hour or book you read and earn the chance to win one of our 5 grand prize baskets!
Once you have reached 25 hours or 25 books ...congratulations--- you have officially finished summer reading! We will give you a certificate of completion and a voucher for a free book from the Friends of the Library Book Nook to use at a later date in addition to your raffle ticket! If you keep reading and get to 50 hours read or 50 books read you will get one of the many colored "Summer Reading Champion Lives Here" lawn sign!
This summer, we want to paint the town red….and blue, purple, green, and yellow with our Summer Reading Champion signs!
Summer Reading Champion Sign Pickups: Email wwdchildrens@gmail.com if you have questions or if you have not heard from us to schedule a pickup time. Each Monday we will notify those who have completed the program within the last week and have the champion signs for those kids available to be picked up from Tuesday at 9am -Thursday at 5pm. We will leave the signs in the Children's Garden, which is in the back of the building, inside the little gate. Please Note: You must wait until you have been emailed by the children's department before there is a sign ready to be picked up for you.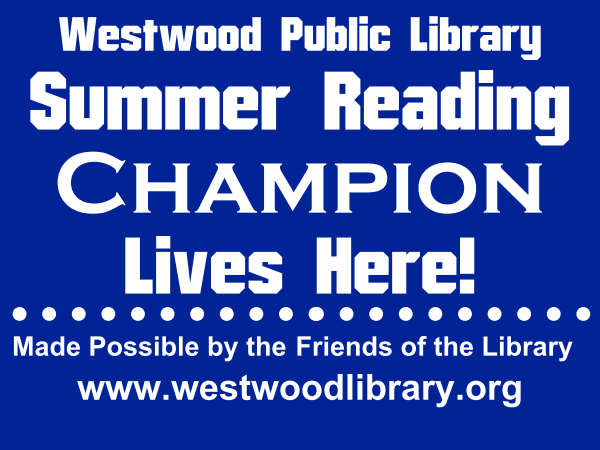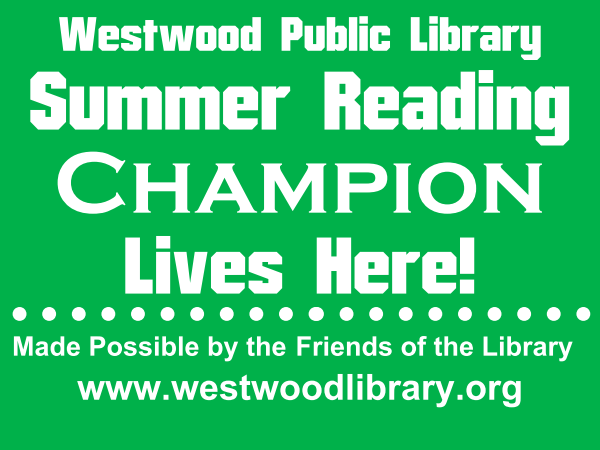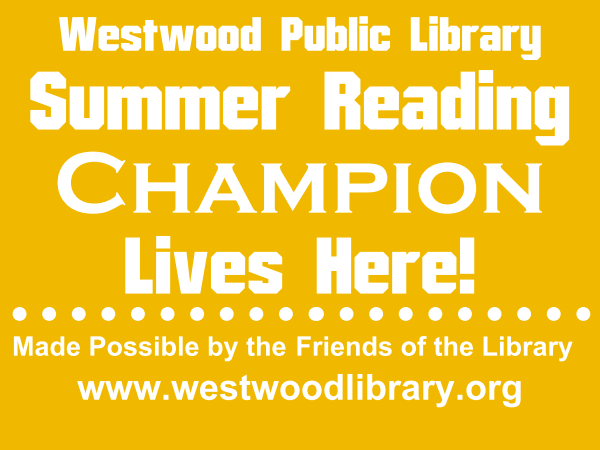 Every time you earn a raffle ticket, you can put it toward winning a raffle basket. Here are the themed baskets for this summer:
Book Lovers Basket
Squishy Crafty Basket
Outdoor Fun Basket
Candy Jackpot Basket
Gamer basket Basket
Ride to first day in Police Cruiser of Westwood Police Department
Birth-PreK: Read 10 books to your little one and participate in learning activities to earn tickets for a chance to win one of our 3 grand prize prek baskets featuring a stuffed animal character and their matching picture book!
---
Reading Suggestions
Check out our Youtube page to hear librarian's suggesting some great books!
ADULTS: Log the time you spend reading and/or book titles and earn tickets for the chance to win one of our 3 grand prize reading baskets!
Staycation Basket (self-care goodies & books)
Gourmand Basket (culinary gifts & books)
The Garden Basket (gardening gifts & books)
Teens in grades 6th - 12th can track the books they read and complete activity challenges to earn badges and raffle tickets for grand prize baskets.
Visit Beanstack to start tracking and earning raffle tickets!
Book Lovers (Kindle Fire HD 8 Plus and Case, Amazon Gift Card and blanket)
Picture Perfect (Polaroid Camera and Film)
Summer of Sports (Nerf Hoop, Magnetic Dart Board, Frisbee and Celtics Player T-Shirt)
Gift Card Mania (Comellas Gift Card, Starbucks Gift Card and Visa Gift Card)
Make sure the books you are choosing are Just Right Books. If you need help finding a good book to read check out our Summer Reading List or ask a librarian for recommendations.
Summer Reading is sponsored by Friends of Westwood Library.