Alternative Ways for a Child to Enjoy Reading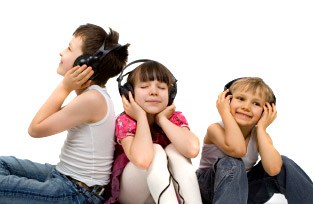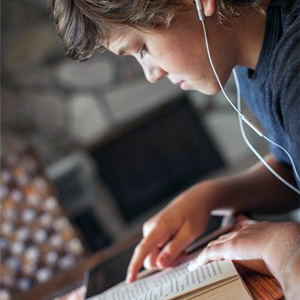 When we think of popular formatting for children's books, we typically envision a physical tomb that has pages, binding and alluring cover designs. While this still remains the primary source utilized by our younger patrons, there are several other options now available to enhance their reading experience!
Why is it an advantageous to add alternative choices to your child's literacy platform?
The reason lies within the understanding that our minds infiltrate information in a multitude of different ways other than solely depending on our eyesight. When it comes to reading a book, we use our vision to follow the words on a page but by intertwining other channels of media, which rely on hearing or touch, they can foster a higher attention to details, comprehension and listening skills. Further benefits include expansion of vocabulary as well as alleviating frustration when faced with challenging texts. By lessening our ocular dependency and employing some of our other inherent senses, we can open up the doors to a whole new way of learning and loving literature. Here are a few of the library's best hidden secrets for alternative storytelling!
Audio Playaways
Audio Playaways are brilliant inventions for diversifying a child's reading sources. These digital devices are not only great for struggling readers but are also a wonderful portable option, which can be easily used at home, in the car or practically anywhere. Many times, kids will avoid lengthy books with tricky vocabulary and go for the shorter titles because of the visual commitment to finish all of three hundred or more pages. Audio Playaways eliminate this anxiety that several juvenile reader's face, allowing them to sit back with a set of headphones and simply enjoy an entertaining book. Perfect for kid's on-the-go or for those afflicted by car sickness, Audio Playaways are also a fantastic option for children who need a little help winding down at night where they can shut their eyes and be soothed by the narrator's voice.
Ebooks
Kids are big fans of Kindles because they can do a whole bunch of cool stuff like play their favorite videogames but those clever little gadgets can also be used as reading tools as well! By using the Westwood Public Library's Overdrive system, you can avoid purchasing expensive titles online and borrow digital books by downloading directly to your device. With a little practice, you'll find that Overdrive is so convenient that it's easier than checking out a physical copy at the circulation desk. Really, it's that simple! Another bonus for those who have trouble returning their books on time will be pleased to know that when the title is due back to the library, the book automatically disappears from your kindle without you having to do a anything thing. If you're concerned that diving into the ebook world may inhibit your child from ever checking out another "real" book again, you will be happy to know that most digital users admit that they utilize both types of media formats, enabling them to become stronger and savvier readers.
Books on CD
Books on CD may not be a newsflash to most but statistics say that their popularity is growing to include a larger segment of juvenile readers and there's a good reason why! Similar to the Audio Playaway, these discs allow our younger patrons the option of listening to stories while hanging out in their rooms or traveling by plane, car or boat. This type of media format has grown to become such a hot commodity in recent years that parents are reporting witnessing their kids opting for less time in front of the TV and more time spent listening to books on their stereos. What a great reason to head over to our children's department and select a book on CD today!