The Westwood Library Children's Department is More Than Just a Place to Grab Your Books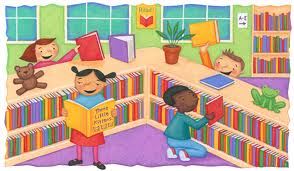 Most of us think of a library children's department as a place to take home picture books, pick out DVD's for the weekend or perhaps catch a few moments just to sit and read to one another. Traditionally, this might have been the case but today this public, community resource is increasing its purpose to include a broader variety of educational opportunities. One area that I particularly love (being a mother myself) is the chance for my kids to develop stronger social skills during our weekly visits to the children's room. Whether your child is an infant or ten years of age, the library provides the chance to play, share and talk with one another. Through Storytimes, special programming or even just perusing the bookshelves looking for their next favorite title, every moment a child spends in a community driven environment allows them to expand their abilities of communication further. If you think about it, kids need a multitude of different situations to utilize and develop basic techniques so that they can exercise their strengths and weaknesses as much as possible.
Examples of Social and Behavioral Building Opportunities:
- For some children, a room filled with a large amount of people can be overwhelming. Several parents will begin to tackle this issue by bringing their child in for a quick, weekly visit and then gradually, increment the amount of time spent in the department. As the child slowly adapts to this environment, he/she may eventually be able to better acclimate themselves to a busier/noisier surrounding.
- "Turn Taking" is another frustrating issue that many are faced with as well as waiting in line and sharing. By allowing your child to interact with other kids within the play area, you'll see that with practice and time, the repetitive occurrence of having to use patience while waiting for a preferred toy or block will increase.
- Group activities can be extremely difficult and thwarting for younger patrons, which is why the librarians are constantly coming up with new and fun programs to help kids find and apply coping strategies. Just by joining a twenty minute Storytime or a drop-in crafting activity, they can improve listening skills as well as many other factions of important behavioral learning.
-Building relationships to connect with others is another big region that our department encourages. For those who are shy and might not know how to interact well with others, the library provides the perfect opportunity to mingle and improve this area of socializing. Discussing plots, characters and the different types of media you enjoy can create the perfect conversation to blossom new friendships. Don't forget-the librarians on staff are always looking to chat up a new book, TV show or movie!
The Westwood Children's Department is a fantastic spot to bring babies, toddlers and elementary school aged children to accumulate more than just an arm full of books to bring home with you (although we love that too!). Behavioral and social adaptation comes with practice, which makes this a wonderful venue for skill building within these areas. Don't worry if your child has a difficult time at first or you're anxious about an unexpected tantrum occurring- trust me, there's not a staff member who will blink twice. That's what we do and that's what we're here for. As a parent, we've all been there,(including myself), which makes this kid-friendly department ideal for nurturing your children's learning and development in a safe and non-judgmental environment.