Destressing with Summertime Fun at the Westwood Public Library
Soon, school will be officially out for the summer and kids are bursting at the seams with excitement! It's that familiar time of year when students sit on the edge of their seats anticipating the last ring of the bell, as their parents gear up for another season of planning vacations, camps and other activities. For some adults, the preparation can muster a reminded feeling of anxiety that fosters a sense of panic when tackling these scheduling difficulties. If these questions are typically a part of your annual seasonal frenzy:
What can I do to keep the kids both happy and occupied this summer?
How much is it going to cost to enroll in summer programming?
Where can I take my kids that won't require long distance travel?
… you'll be pleased to know that you're not alone.
Millions of parents feel the pressure to entertain their children every second of the 2 ½ month break from school and worry about the extensive costs they'll bear in order to do so. Here at the Westwood Public Library, we can assist with some relief by offering a multitude of options to help ease the stress associated with this time of year. Not only has the children's department devised a menu of fun activities that foster literacy and movement for our younger patrons ("Mr. Lemoncello's Library Escape", "Athletic Games" and "Wii Just Dance" to name a few), the library also hosts an exciting package of museum and recreation passes to visit throughout New England! Without the worries of expensive ticket prices or deflated expectations, you can plan your entire summer calendar just by utilizing the amazing amenities that we extend to our patrons. For a full listing, please visit our website at: http://www.westwoodlibrary.org/services/museum-passes/ for further information.
In the meantime…If you're looking for some great summer themed titles to get your child started, check out these books from our catalogue shelves!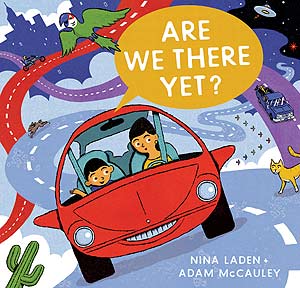 "Are We There Yet?"
Written By Alison Lester
A vacation adventure is more than the time spent solely at your destination – it's about the travel time that goes with it! In this story, the author cleverly mirrors this idea by taking readers through a voyage of all the sites you can see on a long car drive and how these experiences add to the fun of the trip. "Are We There Yet?" becomes the funny commentary asked by a boy to his mother as he learns the importance of enjoying every moment of vacation and the wild places that are seen along the way.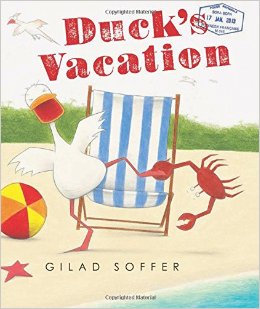 "Duck's Vacation"
Written By Gilad Soffer
If you loved the book, "The Monster at the End of this Book", you're going to LOVE this hysterically funny story about a duck that's just trying to enjoy his beach vacation but is interrupted every time a reader turns a page. Kids and parents will laugh at the interactive dialogue from the disgruntled duck while also giggling at the unexpected twist of events that occur as the end of the story nears.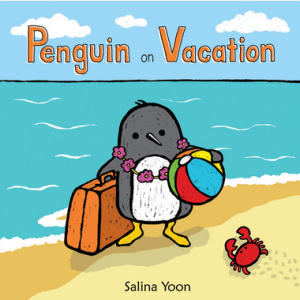 "Penguin on Vacation"
Written By Salina Yoon
In this book, an adorable arctic penguin decides it's high time for him to take a vacation and find a little warmth on a faraway island. Problems arise when he realizes his tropical getaway is not it's cracked up to be after having trouble learning how to enjoy a very different climate than he is accustomed to. With the help of penguin's new friend, crab, he soon finds fun in the sun and a new appreciation for home sweet home.