Fun Crafts to Make With Your Favorite Storybooks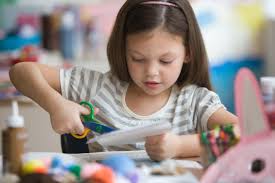 Reading with your child can be a magical experience, reaching far beyond preliminary intentions of broadening their literacy. In fact, experts agree that shared storytime between adults and children can actually heighten creativity by a substantial amount and lead to an impressive proficiency within problem solving and inventiveness. The interactive process of sharing a book together opens the gateway to conversation, explanation and questioning, which are the three main sources for intellectual growth. We all want our kids to reach their full potential and more importantly, maintain a healthy relationship with literature as they age. Guided read-a-longs with children are the very basis for setting this foundation but if you want to go one step ahead, adding a craft can rocket ship their progress within leaps and bounds. Here are some simple art projects that you can do at home which pair perfectly with some of your favorite books!
"The Watermelon Se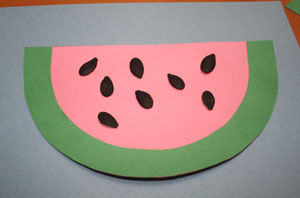 ed" by Greg Pizzoli
If you enjoy this silly story about an alligator who thinks there's a watermelon growing inside of his stomach after mistakenly swallowing a seed, you're going to love making these paper cut outs! All you need is a sheet of pink and green construction paper, a black marker and glue to create this adorable slice of watermelon. First cut out a semicircle from the pink paper then cut an arch to line the bottom with green paper. Glue the two pieces together and add black dots for seeds using the marker. Set the art aside until fully dried and then hang it on the fridge to show off to the whole family.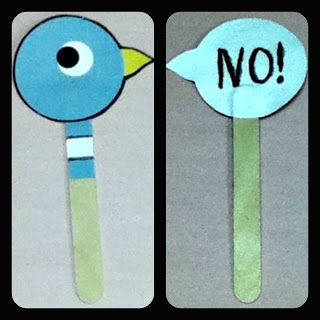 "Don't Let the Pigeon Drive the Bus" by Mo Willems
The infamous crabby pigeon is one of my favorites-especially when this clever craft follows storytime! Another project requiring few supplies, kids and adults can make their very own pigeon Popsicle stick which makes a great bookmark to boot! Gather Popsicle sticks, blue and white paint, blue construction paper (cut out into circles), yellow construction paper (cut out into a small triangle) and glue. To get started, paint stripes on the top 1/2 portion of the stick as seen in this picture, then glue the blue circle for the head on top followed by the yellow paper for the nose pointing out from the left edge of the circle. Next, paint a white circle for the eye, drawing a dark circle off to the side for the pupil and Voila! You have yourself your own pigeon pal.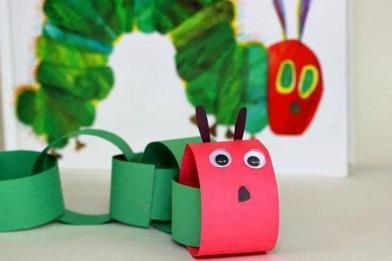 "The Hungry Caterpillar" by Eric Carle
I adore this clever rendition of "The Hungry Caterpillar" and your children, no doubt will have a ball making it! Similar to constructing festive Christmas decorations, cut green paper into slender strips and then staple them together to form a chain. Use a single strip of red paper to attach the head and then glue two googly eyes in the center. To put on the finishing touch, cut a brown, pipe cleaner into (2) two inch antennas and fasten with two staples to the top of the caterpillar's head. Hang from a peg or if it is the yuletide season, drape on a Christmas tree to make a storytime themed decoration!