Making the Transition from the Children's Department to the Teen Room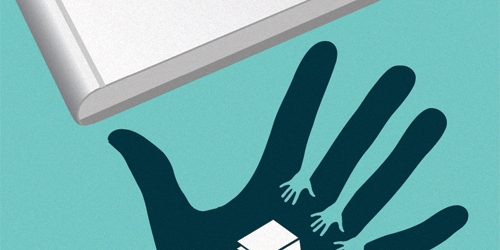 We proudly acknowledge all of the loyal patrons who have visited our children's department over the years, watching them devour books off the shelves, attend educational programs and engage socially with others in the play area. From birth through sixth grade, parents have witnessed their children experience the joy of learning within our reading sanctuary and the positive transformations they've made while visiting Westwood's community driven library. Most likely, if you're included in this pool, you've become comfortable with the kid-friendly environment, staff and amenities so it might be a bit disconcerting when your family begins to age out of the Storytime routine. Now that they're getting older, both their literary cravings and needs are changing, urging them to explore new ideas and topics at a higher sophisticated reading comprehension. While the children's room hosts material geared towards a juvenile audience, the teen room anxiously awaits elementary school graduates during their rites of passage and welcomes them with a new collection of exciting literature and media.
Although we hate to see you go, a whole other world of content awaits them, introducing a broader selection of subjects at an increased maturity level. As it is a stimulating time for many early adolescents, this process could present itself as problematic for some parents who are concerned about unguided exposure to particular topics. Young adult themes containing sexuality, violence or even the language style used by an author can all be considered potential "danger zone" red flags depending on the guardian's individual preference. Due to the fact that the content found within the teen room changes significantly compared to the children's section, adults may feel apprehensive towards allowing their child free reign to browse the books, CD's, DVD's and games without a grownups supervision.
As librarians, we appreciate that it is up to the parent's discretion to decide whether or not an item is appropriate for their child, which is why we offer extensive options for you to choose from for your early adolescent. Librarians from both the teen and children's department are ready to assist you with several different alternatives by taking the initiative to help parent's find permissible media which fit comfortably within their censorship parameters. Since the Westwood Library's collection of young adult media is considerable, we are confident that families will find just the right reading material to continue enhancing their love for literature.
If you're the parent of a recently enlisted middle schooler, check out these great titles to ease you into the teen department's fabulous world of books and more!
1. Sure Signs of Crazy 2. The Giver 3. Lost in the Sun 4.Twilight 5. The Swap
Karen Harrington Lois Lowry Lisa Graff Stephenie Meyer Megan Shull
6. The Crossover 7. The Finest Hours 8. Zebra Forest 9. I Kill the Mockingbird
Kwame Alexander Mike Tougias Adina Gewirtz Paul Acampora