Best Books for a Belly Chuckle

Children's books are written for many reasons and one of which is to make kids LAUGH! There are thousands of titles with the primary goal to keep young readers in stitches, allowing them to explore crazy storylines, imaginative illustrations and funny conversational dialogue. Several talented authors who are famous for their skills of developing unique comedic styles have become some of the most important juvenile fiction writers of our time. Where would we be without Shel Silverstein, Roald Dahl and Mo Willems who encouraged all of us to enjoy the wacky antics found inside "Where the Sidewalk Ends", "The BFG" or "Knuffle Bunny"? Studies show that children who laugh more while reading are also apt to develop strong emotional and social skills at a young age as well as acquire higher coping capabilities later on in life. Clever characters, hysterical events and amusing phrasing found in children's literature encourages readers to be more spontaneous, view complicated situations from unique, problem solving aspects and most importantly, to realize that reading is FUN! If a positive basis for literacy starts at a young age, kids are 10 times more likely to continue their love for books later in adulthood. It's a great excuse to dive right into this genre and a wonderful opportunity to enjoy storytime together!
Here are a few of my favorite stories that are bound to get a few giggles out of both you and your kids!
-Suzie Canale, author/library assistant.
Don't Let the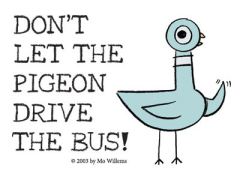 Pigeon Drive the Bus
by Mo Willems
"Don't Let the Pigeon Drive the Bus" is one of Willems greatest hits all thanks to his quirky character, "Pigeon", who becomes distressed when he isn't allowed to take control of the wheel. Determined to get what he wants, he alludes to every excuse he can find to convince whoever is reading the book to give him a chance. Kids will crack up over the humorous dialogue while being exposed to simple words and expressions, encouraging early reading development.
Other Mo Willems "Pigeon" titles include: "The Pigeon Finds a Hot Dog", "Don't Let the Pigeon Stay Up Late", "The Duckling Gets A Cookie", "The Pigeon Needs A Bath", "The Pigeon Wants a Puppy" and "The Pigeon Has Feelings Too". Also check out his hit series "Elephant and Piggy" for more non-stop laughs!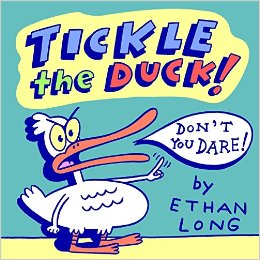 Tickle the Duck
by Ethan Long
For anyone who dislikes being tickled (or likes it a lot), you'll get a kick out of this funny story about a duck who really, really doesnt like it at all. The author creatively entices kids with bold pictures, great comic formating and amusing bubble dialogue that are both easy and fun to read along with! If your child also reveres texturized pictures in his or her storybooks, you'll adore the fuzzy sensory extras that are also included. "Tickle the Duck" will have you hooked immeditely, making you want to read this hysterical classic over and over again!
If you liked this book, request "Too Many Kisses" to see what other trouble duck gets into or the "Max and Milo" series, which is also written in the same brilliant style of comedic writing.
- Suzie Canale
---