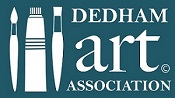 Fall Members' Exhibit
from the Dedham Art Association
Welcome to the annual Dedham Art Association's Fall Members' exhibit. This was planned as an in-person art exhibit in the Westwood Library Gallery. Due to the pandemic the exhibit has been transformed into a virtual art exhibit that is open every day at all times. We hope that you enjoy the artwork and welcome comments. Our many thanks to the Westwood Library for hosting our exhibit! For the exhibit artwork list, please click here. Contact: Barbara Reynolds: DedhamArtAssociation@gmail.com
The juror for this exhibit was Carolyn Latanision, professional artist and art teacher. The Award Recipients are:
First Place Lauren Karp Kinghorn "Transitions"
Second Place Mark Richards "The Great Plain"
Third Place Gail Hansen "Confetti"
Honorable Mention
Mona Podgurski "Pine Street Viaduct"
Barbara Reynolds "Storm Over Mystic"
Rosemarie Morelli "Radiant Joy"
Christine Dooley "St. Agnes Church, Naples, FL"
To find specifics on a particular piece of art, click on the photo. For more information about the Dedham Art Association and the exhibit, click here to visit their website.