Poet Laureate
In partnership with the Westwood Public Library's 21st Century Fund and the Westwood Cultural Council, the Town of Westwood is pleased to announce the selection of Westwood's first Poet Laureate.
Meet Westwood's inaugural Poet Laureate:
Lynne Viti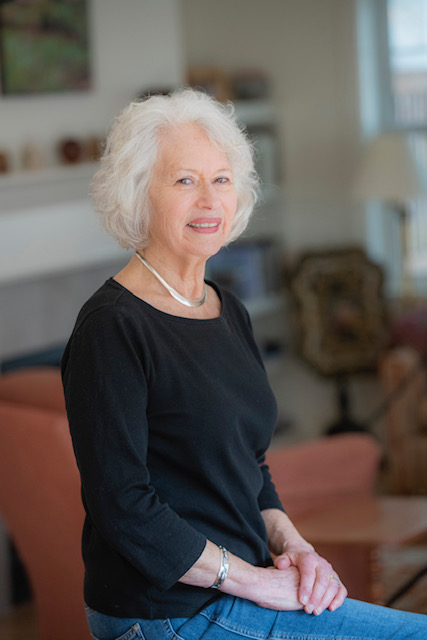 The Town of Westwood's Select Board, acting on the recommendation of the Westwood Poet Laureate Selection Committee, has appointed Lynne Viti as the town's inaugural Poet Laureate. She is a teacher, poet, fiction writer and community advocate for poetry. During her term, which runs through June 2025, Viti will present poetry workshops in the Westwood schools, run poetry workshops for adults in the library and senior center, and write poems to commemorate the town and civic holidays.
Additionally, she will partner with the library and the schools in a town-wide poetry contest, a slam poetry event, and a poetry course at the Westwood Senior Center. She will also select and mentor the first and second Youth Poets Laureate, a position also established by the Select Board.
Both the Poet Laureate and Youth Poet Laureate positions are sponsored by a gift from the Westwood Public Library's 21st Century Fund. The Westwood Cultural Council has also granted funding for programs and inititatives facilitated by the Poet Laureate.
Photo Credit Richard Howard
In making its recommendation to the Select Board, the Poet Laureate Search Committee, led by co-chairs Kieran Moriarty, a Westwood High teacher and Maria Ryan, library trustee, cited Viti's "notable history and ongoing effort to promote poetry in the town of Westwood, her concrete plans for events in the town during her term as Poet Laureate, and the excellence of her poetry."
Viti is the author of four books of poetry, most recently, The Walk to Cefalù, from Cornerstone Press. She has published widely in online and print journals and newspapers, and has won prizes in local, national and international competitions, including the WMOR/Joe Gouveia Outermost Poetry Contest, The Fish Publishing Poetry Contest, the Allen Ginsberg Poetry Contest, and the Tucson Festival of Books Literary Awards. A lecturer emerita in the Writing Program at Wellesley College, she and her family have lived in Westwood since 1991.
"I am excited to serve as Westwood's inaugural poet laureate," said Lynne. "I am passionate about poetry, and look forward to the honor of bringing poetry into every corner of our town, from the very young to the eldest residents. At this time more than ever, we need poetry as a way to celebrate, to mourn, to express our innermost feelings, and to make sense of the world around us."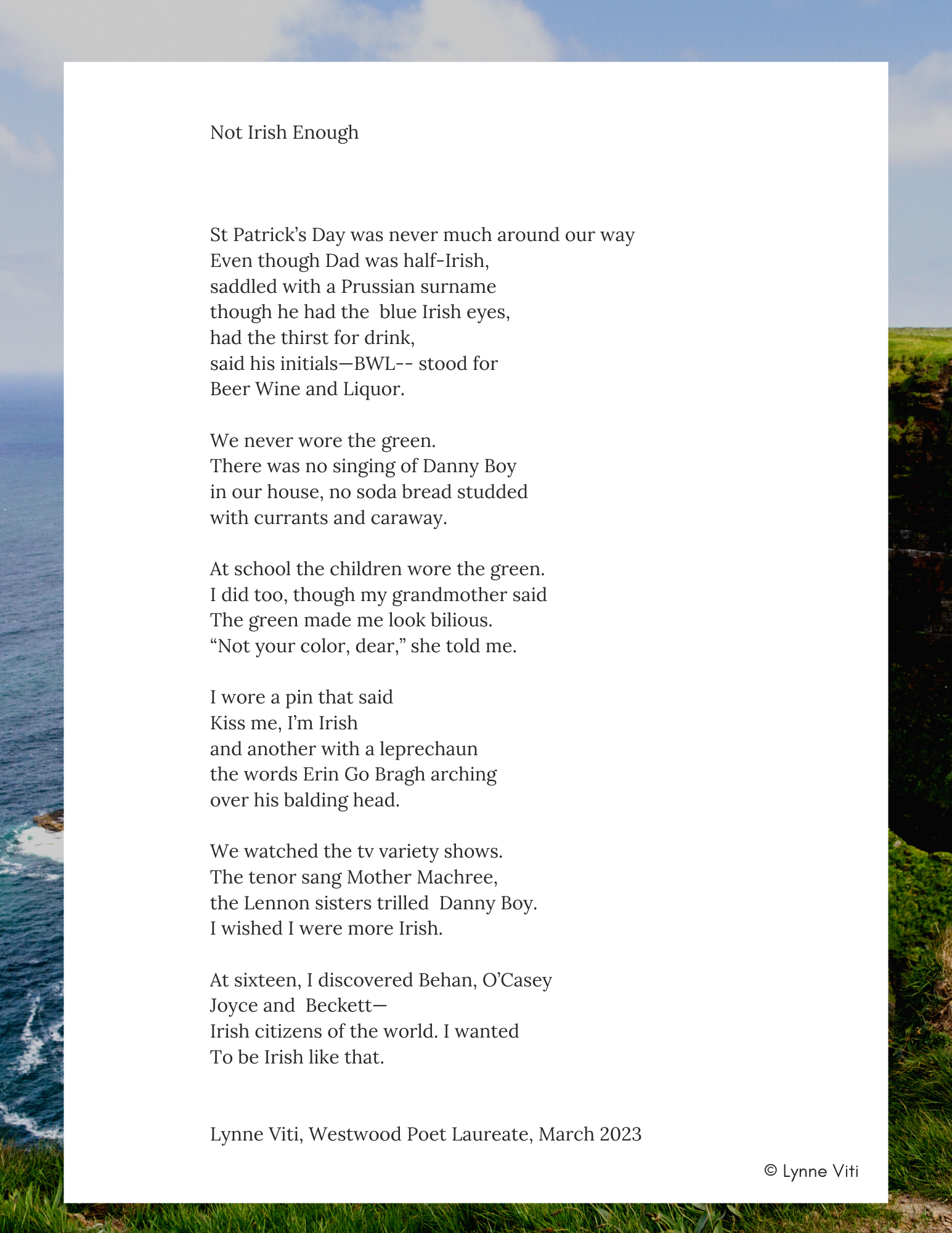 All events listed here are free and open to the public.
Sunday April 2, 3 PM, Poet Laureate's Inaugural Reading,
Westwood Public Library
April 6, 2023, 5-6 PM, with Heather Corbally Bryant, Newhouse Center, Green Hall, 2d flr.,
Wellesley College, 106 Central St., Wellesley, MA
Tuesday April 25, 2023, 7PM, Westwood Tuesday Poets, 2d Annual Reading and Open Mic,
Westwood Public Library, 660 High Street, Westwood, MA
Thursday May 18th, 7PM, Featured Speaker, and inaugural reading, Friends of the Library Annual Meeting
Westwood Library
Monday, May 29, 11 AM, Westwood Memorial Day Ceremony
Westwood's New Cemetery
September 14, 2023, 7 PM, Rozzie Reads, Roslindale House, 120 Poplar Street, Roslindale, MA
Saturday, September 23, 2023, Westwood Day
High School Parking Lot
September 14,2023 featured reader, Pour Me A Poem, Mansfield, MA, 51 Park Street, Mansfield, MA (there will be a pass the hat for the featured reader, completely voluntary)
October 16, 2023, 10 AM Poetry Mini-Workshop
Westwood Council on Aging
*If your library, church, community center, high school college alumnae/i group, or book club would like to book a poetry reading and book signing event, contact me at lviti@wellesley.edu for information. I'd be delighted to come and read and do a Q &A for you!