Policies
Several policies pertaining to the Westwood Public Library are highlighted below. If you have questions or concerns, please contact Lizzy McGovern, Library Director at ehmcgovern@minlib.net.
Please silence your cell phone while in the Library.
Phone conversations should take place in the foyer or outside either library.
Library staff may require that your phone conversations take place in these areas.
Refusal to comply may result in your being asked to leave the Library.
The Main Library has space for art exhibits and to display public notices. The Branch Library has similar, but more limited space for exhibits and notices. Library exhibits and displays are, for the most part, assembled and maintained by the Library staff.
This policy and application is for artists wishing to exhibit their work.

The Library does not endorse either side of an issue and presents exhibits and displays so that patrons can form their own opinions.

Organizations are allowed to set up cultural and educational displays provided they meet criteria established by the Board of Trustees and depending on the space available.

No notice or similar item can be displayed without permission of the Library or Board of Trustees. Exhibits and displays shall be educational and/or cultural in nature. The Library Director shall determine a display's appropriateness under this policy.
Any exhibits or displays on political candidates or ballot questions shall be assembled by the Library staff.
No organization or individual is allowed to solicit cash donations in the Library, and notices, posters, or exhibits which advertise a commercial endeavor are not permitted. Fund raising projects carried out by the Friends of the Library are permitted with approval of the Board of Trustees.
Art exhibits or displays are subject to the limitations of space, facilities, and staff time. The Library staff will provide limited assistance with assembling exhibits by outside groups. Arrangements for assistance must be made in advance.
We Like:
Paperbacks in good condition (fiction or non-fiction)
Books published in last 5 years
Recent best sellers
Classic titles in excellent condition

We Don't Need (and can't sell at the Book Sale):
Books in poor condition: yellowed, broken bindings, musty smelling...
Textbooks
Reader's Digest condensed books
Dated information (old travel guides, etc)
Magazines

Helpful Hints:
Call ahead (781-320-1045)
Limit your donation to 1 to 2 boxes at a time
Do not bring us books we must discard

Tax Receipt:
If you would like a receipt, count the items you are donating. We can give a signed, dated receipt for the number of items, but cannot assess the value.
Thank You:
Your useable gift allows the Library to add valuable items to the collection. The items we cannot use are sold at Friends of the Westwood Library book sales (proceeds benefit the Library).
The Library provides free access to the Internet from its public computers and on its wireless network. Internet resources are available on the Library's web site, on the Minuteman Library Network site, and by searching the web. In establishing access to electronic resources, the Board of Library Trustees is guided by the American Library Association's Library Bill of Rights and a supplemental document entitled Access to Electronic Information, Services, and Networks.
While much of the information on the Internet is valuable and enriching, there may be material that is controversial, offensive, erroneous, or illegal. The Westwood Public Library does not monitor, and has no control over information accessed through the Internet, and is not liable for its content, presentation, or use. The Library does not filter Internet access, but requires all users to observe acceptable use guidelines. People with concerns about Internet content should speak with the staff or Library Director.
A complete copy of the Internet Policy is available at either the Main or Branch Library.
Library Meeting Room Statement
Meeting rooms at the Westwood Public Library are intended to provide space for library activities and for use by local, non-profit groups and organizations sponsoring civic, cultural, and educational events. The meeting room space may not be reserved by an individual or for a private event. Library sponsored activities have priority in consideration of the rooms.
Meeting rooms are available to groups on an equitable basis. Granting permission to an organization to hold a meeting at the Library does not in any way constitute an endorsement by the Library of the content of the program of that meeting or of that organization's policies or beliefs.
Available Meeting Rooms
The following meeting rooms are available for public use:
Main Meeting room – capacity: 75
Conference room – capacity: 25
Children's Program room – capacity: 50
Please note that use of the Children's Program Room is strictly limited to organized Westwood youth programs such as the Early Childhood Council with appropriate adult supervision. Use for parties or play dates is not permitted. The room is available during normal library hours. Reservations for the Children's Program Room are available in the Children's Department.
The Library's two study rooms located on the second floor are not considered meeting rooms and the rules for their use are detailed in a separate section.
For Profit Groups
The following meeting rooms are available to for profit groups:
Main Meeting room – capacity: 75
Conference room – capacity: 25
For profit groups are subject to the policies and rules outlined in this document and in the request forms for the abovementioned rooms.
Reservation Policy
Requests to use the meeting rooms must be made in advance by a Westwood resident using the Library's Meeting Room Request form available online. Request forms must be submitted and approved by Library Administration before any reservations can be confirmed. The Library may require additional information before granting room requests.
Rooms are assigned in order of receipt of application. Priority is given to the Library and to Town officials; the Library reserves the right to transfer a group or organization to another area or cancel a reservation if necessary.
The request form must be submitted by an adult (18 years or more) who, jointly and severally with his or her organization and its members, assumes full responsibility for the conduct of the events, its participants and compliance with this policy This responsibility extends to liability for damage to property or equipment of the Library and any third parties. It further extends to responsibility for any extra costs, including, but not limited to, custodial clean-up or repairs, police protection the Library deems necessary because of either anticipated or unanticipated problems related to the reservation. The Library Trustees and the Town are not responsible for any financial loss or injury to any person or organization arising out of a reservation or room use.
Requests for meeting rooms must be made at least seven (7) days in advance of the proposed meeting. Requests may be made up to 90 days in advance in any given period. In order to provide meeting room space in a fair and equitable manner, the Library reserves the right to limit the number of meetings requested by any group in any given period. Organizations are requested to notify the Library at least 24 hours in advance of a change in a previously scheduled meeting.
The Library is not responsible for the cancellation of approval for use of meeting rooms in case of emergency (i.e. storm, power failure), which results in the closing of the Library, and thus the meeting rooms.
General Information
Groups using the rooms may not charge a fee for attendance or offer items for sale. The sale of items is only permitted by the Friends of the Westwood Public Library, with the permission of the Board of Library Trustees.
Use of the rooms may include use of the facilities in the kitchen off the meeting room. Each group will be responsible for leaving rooms in a clean and orderly fashion.
The Main Meeting Room and the Conference Room have projection, sound and Internet capability. Use of equipment for a meeting must be indicated on the Meeting Room Request form. The Library staff will oversee equipment use, but are not required to troubleshoot problems with non-library equipment such as laptop computers.
The Library does not publicize non-Library sponsored events.
The Trustees will not assume responsibility for the loss or damage of property not belonging to the Westwood Public Library.
For non-profit groups and organizations, rooms are available free of charge during regular Library hours. The Main Meeting Room and the Conference Room are available for use after the Library is closed, Monday through Thursday. Organizations using the room after hours must pay a supervised closing fee. The closing fee is assessed on an hourly basis for each part of an hour after 9:00 pm. Checks must be made payable to The Town of Westwood. Failure to promptly pay the Town of Westwood for Meeting Room use will result in termination of Meeting Room privileges.
Rules
Organizations shall follow the Rules of Conduct policy of the Westwood Public Library. Failure to adhere to this policy will be cause for either cancelation of future meetings or a request to suspend the meeting.
Alcoholic beverages, smoking, lit candles, or other open flames are not permitted anywhere in the building including the meeting rooms.
Refreshments may be served only inside the meeting rooms, not in adjacent areas. All meeting activities must be confined to the meeting room.
The kitchen adjacent to the main Meeting Room is available for serving light refreshments. The user is responsible for leaving the kitchen clean or be subject to a cleaning fee.
Organizations must provide their own supplies. The Library does not have space to store organization supplies.
Decorations and/or displays must be limited to tables or easels. No materials are to be posted or attached to the walls. Materials on display in the meeting rooms are not to be moved, covered, or rearranged.
Meetings where crafts, floral arrangements or other art is assembled are required to leave the room in an orderly manner.
Solicitation of business or encouragement of library patrons to participate in the meeting room activity is not allowed. Meetings may not disturb library patrons, impede library staff or endanger the library building or collection.
For security reasons all people must enter the Library by the front door. For after hours meetings all people must use the designated exit.
Responsibility for Damage and Free and Harmless Requirement
By agreeing to the meeting room Terms and Conditions, the applicant, acting for the group or organization, accepts responsibility for any damage to Town Property. The applicant, acting for the group or organization, also agrees to keep the Town of Westwood, the Board of Trustees, the Library Director, their agents and employees forever free and harmless, and indemnified against costs or expense arising out of any accident or other occurrence causing injury to any persons or property as a result of the use of the above premises.
The Board of Library Trustees establishes policy concerning meeting rooms. Any decisions or interpretations of this policy will be made by the Library Director.
Reserve Museum Passes Online! You can now reserve your own museum pass online by selecting a specific museum or by selecting a specific date.
CLICK HERE to reserve your museum pass.
Please note: Passes do not provide discounts for museum store purchases or parking, nor do they cover any special exhibit fees.

Policy:
Museum passes are available for WESTWOOD RESIDENTS and town employees only; residents and employees must have a valid Minuteman Library Card in order to borrow passes.
Passes may be reserved up to 30 days in advance in person or by phone 781-326-7562.
Passes may be picked up at the Circulation Desk the day before use or anytime on the day of use. A Library Card in good standing must be presented.
Passes are due back the same day they are used and must be returned only to the WESTWOOD PUBLIC LIBRARY. Passes may be returned at the Circulation Desk or in the book return when the Library is closed.
Overdue fine is $5.00 per day.
The Westwood Public Library frequently takes photos of its public programs, activities, and their participants. Please be aware that these photos may be used in brochures, flyers, web pages, news releases, or other promotional materials. Those wishing not to be photographed or recorded should inform the photographer or library staff
The Board of Library Trustees has approved a set of general rules for conduct in the Westwood Public Library. Staff should be familiar with these rules and apply them if a situation warrants.
The aim of the Westwood Public Library is to provide high quality resources that meet the cultural, educational, and informational needs of the community, thereby enhancing the quality of life.
The Library serves the community most effectively if everyone adheres to a few simple rules.
Whoever willfully disturbs persons assembled in a public library by making a noise or in any other manner will be asked to leave the building.*
Please observe the NO SMOKING rule throughout the building and on Library property.*
Consumption of food and/or drink is restricted to the Main Library's first floor Gallery area. Please put all food wrappers, bags, or drink containers in the trash receptacles.
Under state law, it is an offense to mutilate or destroy library property.*
Under state law, it is an offense to willfully conceal and remove any library materials or property.*
Parents or guardians are responsible for the behavior and supervision of their young children in the Library.
Loitering on library premises, grounds, or parking lot is not permitted.
No solicitation of any kind may take place on library property.
Cell phone conversations are not permitted on the Main Library's 2nd floor Adult Services Department and at the first floor Circulation Desk. Brief cell use is restricted to the first floor Children's Department and in the Gallery area.
* The following Massachusetts General Laws pertain to these rules:
Disturbances: MGL Chap. 272, Section 41; Mutilation/destruction of materials: MGL Chap. 266, Section 100; Smoking: MGL Chap. 270, Section 22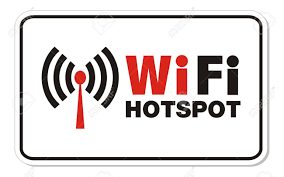 Need WiFi on the go? Check out a mobile hotspot from the Westwood Public Library!
The Library now offers Mobile Beacon 4G mobile hotspots. Internet service is provided on Sprint's 4G LTE network allowing library patrons access to high-speed internet service anywhere a cell phone signal can be received. Up to 10 devices can be connected, with unlimited data. Please note that if Sprint coverage is not available, the devices will not work effectively. Click here to view the Sprint coverage map.
Why would you want to borrow a hotspot?
You're thinking about taking a road trip, a vacation, or a business trip?
You don't have unlimited data with your phone plan, but need to get on the internet?
You do not have internet access at home, but need to use the internet when the library is closed.
How can I borrow a hotspot?
WiFi Hotspots are available on a first-come, first-serve basis. These can be placed on hold using the Minuteman Catalog, similar to placing holds on traditional library items. The initial checkout period is 14 days. These are not date specific, and they can be renewed up to 2 times (based on availability if no other patrons are waiting).
WiFi Hotspots Policy and Requirements
You must be a Westwood resident or employee of the Town of Westwood and at least 18 years of age.
You must have a valid Library card in good standing, with a current address on file, and not have fines over $10.
The Library is not responsible for any liabilities, damage or expense resulting from use or misuse of the device, connection of the device to other electronic devices, or any loss of data resulting from use of device.
Any use of the device for illegal purposes, unauthorized copying of copyright-protected material in any format, or transmission of threatening, harassing, defamatory or obscene materials is strictly prohibited.
Internet filtering is NOT provided through the Hotspot.Parents/Guardians are responsible for monitoring what their children access via the Library's Hotspot.
Borrowers may not change settings on this Wifi Hotspot. Tampering with library equipment, software, or programming, including bypass security functions, is prohibited.
Wifi Hotspots are for use in the continental U.S. only.
Lbrary staff are unable to provide technical assistance with the Hotspots.For technical issues, please visit the Sprint website for their mobile hotspot user guide.
Your Internet usage is not tracked by the Library or the service provider. The Library does not provide patron information to the service provider. The only data about the hotspot program that the Library collects is the total amount of data transmitted and received by each device during a billing cycle.
The Hotspot should be kept in a temperature controlled environment.Please do not leave it in your car!
Hotspots will not work internationally!They only work in the continental U.S. where Sprint coverage is available.
Loan Rules and Duration
Hotspots may be checked out for 2 weeks.
Hotspots are available for pick up at Circulation Desk.
Fines are $5 per day for each day the device is kept over the 2 week period.Overdue hotspots will have Internet access deactivated within 24 hours beyond their due date Hotspots that are not returned will result in a replacement fee charge of $50.
Hotspots may not be returned in the Book Return, they must be returned at the Westwood Public Library – Circulation Desk.
Borrowers are limited to one Hotspot checkout, per household, per month.
Patrons are responsible for costs associated with loss or damage of the Mobile Hotspot and/or peripherals.