Need WiFi on the go? Check out a Mobile Hotspot from the Westwood Public Library
Need WiFi on the go?Check out a Mobile Hotspot from the Westwood Public Library!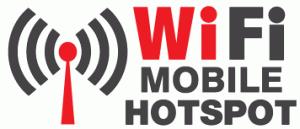 The library now offers Mobile Beacon 4G hotspots. Internet service is provided on TMobile's 4G LTE network allowing library patrons access to high-speed internet service anywhere a cell phone signal can be received. Up to 10 devices can be connected, with unlimited data. Please note that if the TMobile coverage is not available, the devices will not work effectively. TMobile coverage map can be viewed at https://www.t-mobile.com/coverage/coverage-map
WHY WOULD YOU WANT TO BORROW A HOTSPOT?
You're thinking about taking a road trip, a vacation, or a business trip?
You don't have unlimited data with your phone plan, but need to get on the internet?
You do not have internet access at home, but need to use the internet when the library is closed.
HOW CAN I BORROW A HOTSPOT?
WiFi Hotspots are available on a first-come, first-serve basis. These can be placed on hold using the Minuteman Catalog, similar to placing holds on traditional library items. The initial checkout period is 14 days. These are not date specific, and they can be renewed up to 2 times (based on availability if no other patrons are waiting).
WiFi HOTSPOTS POLICY AND REQUIREMENTS
You must be a Westwood resident or employee of the Town of Westwood and at least 18 years of age.
You must have a valid Library card in good standing, with a current address on file, and not have fines over $10.
The Library is not responsible for any liabilities, damage or expense resulting from use or misuse of the device, connection of the device to other electronic devices, or any loss of data resulting from use of device.
Any use of the device for illegal purposes, unauthorized copying of copyright-protected material in any format, or transmission of threatening, harassing, defamatory or obscene materials is strictly prohibited.
Internet filtering is NOT provided through the Hotspot.Parents/Guardians are responsible for monitoring what their children access via the Library's Hotspot.
Borrowers may not change settings on this Wifi Hotspot. Tampering with library equipment, software, or programming, including bypass security functions, is prohibited.
Wifi Hotspots are for use in the continental U.S. only.
Lbrary staff are unable to provide technical assistance with the Hotspots.For technical issues, please visit the TMobile hotspot website, https://www.t-mobile.com/support.
Your Internet usage is not tracked by the Library or the service provider. The Library does not provide patron information to the service provider. The only data about the hotspot program that the Library collects is the total amount of data transmitted and received by each device during a billing cycle.
The Hotspot should be kept in a temperature controlled environment.Please do not leave it in your car!
Hotspots will not work internationally! They only work in the continental U.S. where Sprint coverage is available.
LOAN RULES AND DURATION
Hotspots may be checked out for 2 weeks.
Hotspots are available for pick up at Circulation Desk.
Fines are $5 per day for each day the device is kept over the 2 week period.Overdue hotspots will have Internet access deactivated within 24 hours beyond their due date Hotspots that are not returned will result in a replacement fee charge of $50.
Hotspots may not be returned in the Book Return, they must be returned at the Westwood Public Library – Circulation Desk.
Borrowers are limited to one Hotspot checkout, per household, per month.
Patrons are responsible for costs associated with loss or damage of the Mobile Hotspot and/or peripherals.