Westwood Reads Together, Apart: The 12 in 12 Book Challenge
​The Westwood Public Library is launching a new initiative, Westwood Reads Together, Apart: The 12 in 12 Book Challenge, inviting everyone in our community to join us in reading 12 books in 12 weeks, or 1 book each week, ending July 5, 2020.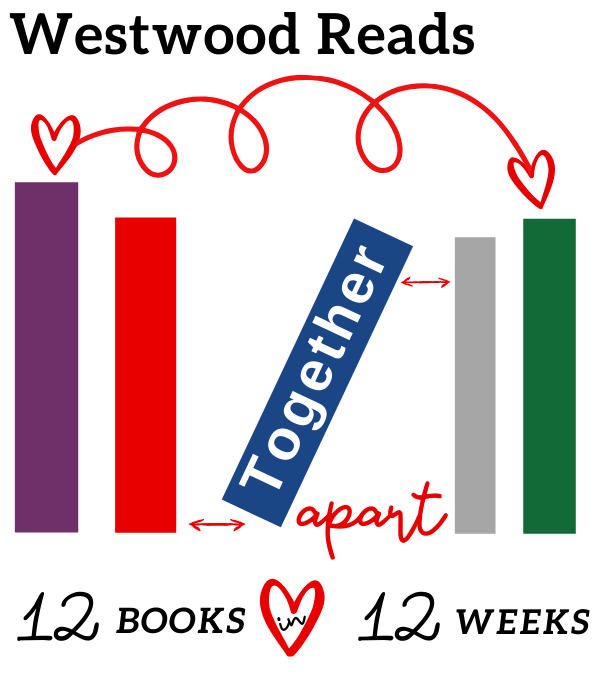 Why are we promoting this? In the words of C.S. Lewis, "We read to know that we are not alone." As we continue to practice social isolation, it is more important than ever to take time to continue to connect with one another. Books are a powerful vehicle for fostering community and empathy; stories overcome loneliness and allow us to travel beyond all boundaries. And while our physical gathering spaces are unavailable, the Westwood Public Library staff continue to foster and create a virtual gathering place for all of our community neighbors and friends, and continue to support reading together, even though we may be in separate spaces.​
There is no form to complete, or need to register. Beginning Monday, April 13th start a book of your choice. If you don't know what you want to read, check out our social media and visit the Library's website to find staff recommendations and links to other established resources.​
Book groups, author talks and other events are also being held as virtual programs, and all are invited to participate. Visit our Eventbrite page to view all of the Library's virtual offerings. For the most updated information visit our website: www.westwoodlibrary.org or follow @WestwoodPLMA on Facebook, Instagram, Twitter and YouTube.
If you have questions or would like more information please email wwdmail1@minlib.net, or call 781-320-1041. Library staff will try to respond to all calls and messages within 24 hours. All programs are virtual events via Zoom.