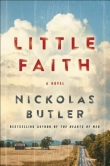 Pre-Pub Pick: Little Faith by Nickolas Butler (Expected publication: March 5th 2019 by Ecco).
Family, faith and reality collide together in Butler's latest literary, small town drama. Lyle and Peg, a stable and hardworking retired couple in rural WI, take in their adopted, adult daughter Shiloh, and her 5 year son, Issac. Still reeling from the loss of their first biological child decades ago, Lyle's love for and bond with Issac is all-consuming. When Shiloh takes up with a fundamentalist Christian church and its young and charismatic preacher, concerns are raised but are quickly ignored in order to preserve a line of communication. What follows is a heartbreaking entanglement of love, loss, prayer and faith.

Butler's brings compassion, love and sorrow together in a way that will remind readers of Jodi Picoult, but with a distinctly midwestern flair. For fans of small town family dramas and literary fiction.*Thanks to Edelweiss and Ecco for providing an e-galley for an unbiased review.*
Place a hold on Little Faith by clicking here!
Read More