Down the Rabbit Hole: Episode 1- The Camp Fire (2018)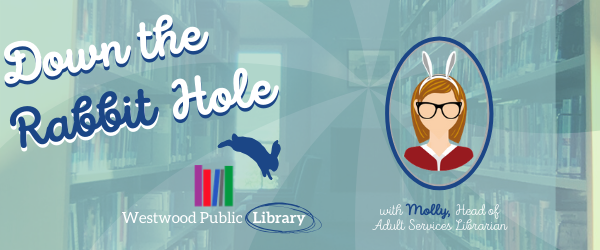 Being a reference librarian is the best job in the world. Here in Westwood, I teach people how find resources and learn new things, plan community events (like author visits) and library initiatives (like the Adult Summer Reading Program). I am part of the team that purchases materials for the adult collection (books, DVDs, digital resources, etc). I have a creative outlet when I design marketing materials for the Library, and get to advocate for the core library values I am passionate about, like patron privacy and information literacy. In short, I have plenty of things to keep me busy and engaged- both in and out of the library!
But do you want to know a secret? Of all the interesting, rewarding and sometimes challenging things I do in my position, my absolute favorite thing about being a reference librarian is research. I call it "the hunt"- finding answers to questions asked by patrons and learning a variety of new things. There is nothing as satisfying as finding the truth or answer to a difficult query.
I am the worst person to watch a movie with- why? Because as soon as something has piqued my curiosity I stop paying attention to the movie, pull out my computer or phone, and become absorbed by whatever topic- usually something weird, dark, historical or off-beat. Note that while I'm terrible with movies, I am awesome at trivia...
...And my readings inspire another interesting subject that grabs my attention, and down I go- especially when the knowledge gained is sociological or related past events and people's lives; if only I could hear everyone's story.
Over the next twelve weeks I will walk you through the "topic of the week" (flavor? monster?) and what library resources were used to quell curiosity. What will the topics be? I have no clue, but let's learn weird stuff together.
---
In Week One, I will walk you through my obsession with the 2018 Camp Fire, also known as the "Paradise Fire" or "Fire in Paradise". Here are the five fast, must know facts about The Camp Fire (2018):
1. At least 85 people died in the fire, making it the deadliest wildfire in CA history, and the 6th deadliest in US history. (Flaccus, 2018; Gee, 2020)

2. The wildfire began on November 8, 2018 after a very old powerline, owned and maintained by California utility company, Pacific Gas and Electric (PG&E) was knocked down by strong winds in a forested area in Butte County, CA. (Gee, 2020)

3. The fire was named for the location first relayed to 911 operators, Camp Creek Road in Pulga, CA. (Ting, 2018).

4. The weather conditions- extremely dry, unseasonably hot and windy- enabled the fire to spread at a peak rate of 80 football fields a minute. (Boghani, 2019; Gee, 2020)

5. The disaster shined a spotlight on climate change: "10 of the 20 most destructive fires in California, in terms of structures destroyed, happened in the last four years, according to Califoenia Fire (Cal Fire). Eight of them happened within the last two years. In its strategic plan for 2018 (released before the Camp Fire), Cal Fire noted, "Climate change has rendered the term 'fire season' obsolete, as wildfires now burn on a year-round basis across [California]." (Boghani, 2019)

Click here for all the resources I used to research The Camp Fire, 2018- organized and cited by format. Enjoy!