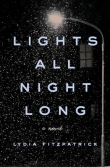 Pre-Pub Pick: Lights All Night Long by Lydia Fitzpatrick (Expected publication: April 2, 2019 by Penguin Press).
Lights All Night Long follows Ilya, a 15-year-old boy growing up in a former gulag community in northwestern Russia, and his journey in becoming an exchange student to America as his brother, Vladimir, is arrested for murder. As Ilya attempts to integrate into his new community, he also begins to investigate and piece together the crimes that Vladimir has, and has not, committed.
A story of love, addiction, corruption, and guilt, Lights All Night Long expertly illustrates how siblings inevitably shape our lives. Highly recommended, especially those interested in Russian settings, though Fitzpatrick's depiction of siblings is universal.
Place a hold on Lights All Night Long by clicking here!
Many thanks to Edelweiss and Penguin Press for providing me an advanced copy in exchange for an honest review.
Read More