PrePub Pick: The End We Start From by Megan Hunter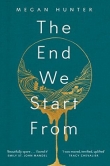 The End We Start From by Megan Hunter. On Sale Date: November 7, 2017
Sparse and poetic, The End We Start From tells the story of a natural disaster in England from the perspective of an unnamed new mum. Separated early on from her husband, R., Mum and son, Z., navigate their new lives as refugees.
Z's developmental milestones chronicle Mums journey. Hunter is a wordsmith- she perfectly describes the anxieties of new motherhood and the tenacity needed by survivors.
The lyrical format may be a turnoff to some readers, but one could argue that the sparse sentences and frequent use of the space bar help the reader digest the heaviness of the subject. This title is highly recommended for disaster junkies and mothers looking for a tear-jerker.
Click here to request your copy today!