PRE-PUB PICK: THE SUSPECT BY FIONA BARTON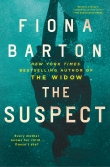 Pre-Pub Pick: The Suspect by Fiona Barton (Expected publication: January 22, 2019 by Berkley Books).
Barton's third novel in the Kate Waters series is every mother's worst nightmare. Such a great, suspenseful that will not disappoint fans of her previous novels. A definite LibraryReads star!
Place a hold on The Suspect by clicking here!
Many thanks to Edelweiss and Berkley Books for providing me an advanced copy in exchange for an honest review.