Down the Rabbit Hole: Episode 2 - The Manhattan Well Murder Trial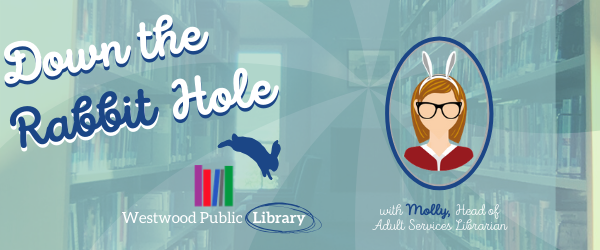 I was listening to the Hamilton soundtrack in preparation of the musical's film release on Disney +. Sadly the soundtrack used to be on Hoopla, but is no longer available. However, Hoopla does have many books on Hamilton, including HAMILTON & WASHINGTON: THE ALLIANCE THAT FORGED AMERICA from Westwood's favorite Presidential Historian, Stephen F. Knott.
In any case, the song Non-Stop* talks about a murder trial "...the first murder trial of our brand-new nation" (it was the first recorded, and the first sensational murder trial) in which Hamilton and Aaron Burr co-respresent a man named Levi Weeks charged with the murder of Gulielma "Elma" Sands. I love a good true crime story- and this one is so interesting!
---
5 Fast Facts
1. On December 22, 1799 Elma Sands, 22, leaves her home (a boarding house on Greenwich St., NYC), with the presumption that she would elope with her fianceé Levi Weeks, another border in the home. The boarding house is operated by Catherine and Elias Ring, Elma's Quaker cousins (Historical Society of the New York Courts).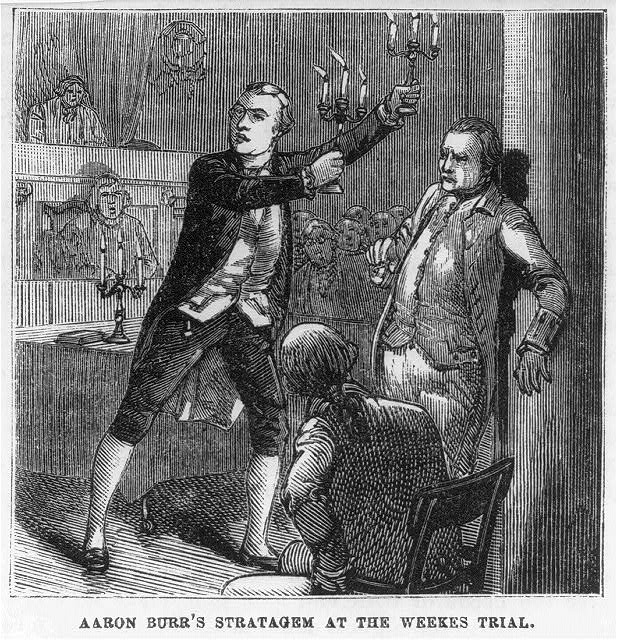 2. Levi returns to the boarding house looking for Elma later that same evening, but Elma isn't found until January 2, 1800, drowned in a well, located on the property of and owned by the Manhattan Company- a business founded by Aaron Burr (Collins, 2014).
3. This was particularly noteworthy because Manhattan's water supply, and Burr's company (The Manhattan Company), was considered shady, and was despised by Hamilton. Burr's original bill (NY Legislature) for a private water company originally received support from Hamilton because Yellow Fever, an annual endemic, would be stymied by the private company's efforts, was changed at the last minute by Burr to include a larger figure, a huge (Republican) board, only 10% stock ownership for NYC, and "...a perpetual clause that empowered the Manhattan Company to use any 'surplus funds' as it saw fit" (Collins, p 96). It also included no language about being a water company- essentially it became a competing, Republican bank- which had been a Federalist operation up until that point. The bill passed due to it being voted on the floor after many the representatives had left to return to their constituents. (Collins, 2014).
4. The Rings quickly implicated Levi for the murder, and in a macbre display of sensationlism, Elma's bloated corpse was displayed on the sidewalk of the boarding house in order to allow people to "come to their own conclusions" about wether or not she was pregnent- a possible motive for Weeks to kill her (she wasn't).
5. Aaron Burr, Alexander Hamilton and Henry Brockholst Livingston were the original legal Dream Team. Burr had a special interest in defending Weeks because of his company, but Hamilton joined the Week's legal team because Levi's brother, Ezra Weeks, was his friend who had built the Hamilton Grange. In addition to Burr and Hamilton's legal brilliance and fame, Livingston had just overturned a death sentence via the Insanity Plea- which wasn't even a legal defense in New York State at the time, and required the approval of the state legislature and New York Governor John Jay.

Click here for a PDF for a list of library sources I consulted in my research of the infamous Manhattan Well Murder and Trial.
If you have an interesting topic you would like me to discuss, email me at mriportella@minlib.net.

* Non-Stop (song); Artist: Leslie Odom, Jr., Lin-Manuel Miranda, Renée Elise Goldsberry, P; Hamilton (Original Broadway Cast Recording). MG (on behalf of Atlantic Records); UNIAO BRASILEIRA DE EDITORAS DE MUSICA - UBEM, LatinAutor - Warner Chappell, ASCAP, Warner Chappell, CMRRA, PEDL, LatinAutor, and 9 Music Rights Societie; https://www.youtube.com/watch?v=_YHVPNOHySk