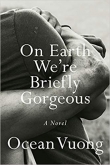 Pre-Pub Pick: On Earth We're Briefly Gorgeous by Ocean Vuong (Expected publication: June 4, 2019 by Penguin Press)
On Earth We're Briefly Gorgeous is the new, authentic American novel that lifts the veil of the life of young man on the outside. Little Dog, a Vietnamese first generation American, writes a pensive letter to his mother. This letter is a lyrical, stream-of-consciousness personal history that illustrates the conflicting societal narratives, issues and experiences of adults who came of age in the late 90's and early 2000's- particularly for Asian Americans and other minorities. Anyone who grew up in America in the past 30 years has known or loved someone who has overdosed- and Little Dog wistfully recounts the heartbreak, anger and shame felt by those left behind.
Little Dog's searing truths about his family secrets, sexual awakening, and the poverty and addiction that have surrounded him are, to him, a private release- his mother cannot read- but the catharsis leaves the reader with much to mull over. Vuong's raw descriptions reflect of the realities of how race, class, family, sexual orientation and immigration status- all these labels- are all parts on a often conflicting, American identity. Highly recommended for all.
Place a hold on On Earth We're Briefly Gorgeous by clicking here!
Many thanks to NetGalley and Penguin Press for providing me an advanced e-galley of this title in exchange for an honest review.
Read More