Pre-Pub Pick: Biloxi by Mary Miller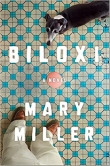 Pre-Pub Pick: Biloxi by Mary Miller (Expected publication: May 21, 2019 by Liveright).
Sixty-three-year-old Louis McDonald, Jr. has seen better days. His wife, Ellen, has left him after 30 years of a cheerless marriage. He has recently retired, and his remaining family, including his ex-brother-in-law and Louis's daughter, Maxine, and her young family, all but exasperate him. But when Louis comes across a free dog named Layla, life begins to speed up. Suddenly Louis is meeting women, dodging enemies and actually feeling all the highs and lows that life thrusts upon us all. With Layla by his side, Louis begins to open both his mind and his heart to all the possibilities he long thought past.
Miller's honest novel perfectly details the loneliness and isolation felt by millions, particularly seniors, with humor, compassion, and hope. Biloxi is the American A Man Called Ove. Dog lovers, southern fiction fans, and those needing a jolt of optimism- so basically everyone- should pick this up.
Place a hold on Biloxi by clicking here!
Many thanks to Edelweiss and Liveright for providing me an advanced copy in exchange for an honest review.