Pre-Pub Pick: LOOKER by Laura Sims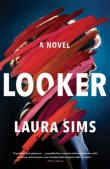 Pre-Pub Pick: Looker by Laura Sims (Expected publication: January 8th 2019 by Scribner).
A quick and disturbing trip in the mind of a woman on the verge of losing everything. A woman living and teaching in NYC is reeling from her both the breakup of her marriage and her unsuccessful IVF treaments and infertility. The unnamed woman begins making irrational choices in her personal and professional life- most notably her growing obsession with her actress neighbor.

This is a great psychological thriller, told from the POV of the "villain"- who is clearly in the middle of a mental breakdown. The tone and language used by Sims creates a feeling of unease- as if you are in the midst of derailing your own life. A great, creepy read- for fans of Leïla Slimani's The Perfect Nanny. *Thanks to Edelweiss and Scribner for providing an e-galley for an unbiased review.* *
Place a hold on Looker by clicking here!