What should I read next? Online tools to pick your next book!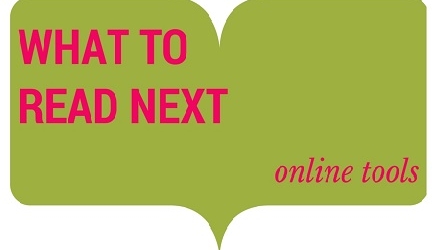 The librarians in Westwood love nothing more than suggesting a good book! The staff at both the Main and Islington Branch Library are always available for readers' advisory. But maybe you would like to explore on your own. Check out these online tools to pick your next book!
Books & Authors
Books & Authors offers new ways to explore the endless possibilities and combinations of books, authors, genres and topics. Combining over 140,000 titles, 50,000 authors, and thousands of read-alike, award winner and librarian's favorites lists, Books & Authors helps bring readers and literature together. Through the use of expertly written and arranged content and a dynamic, cutting edge user interface, Books & Authors makes exploration of genre fiction and essential non-fiction fun! You just need your library card!
Novelist
NoveList is an electronic readers' advisory resource which assists fiction readers in finding new authors and titles. Through its attractive and easy-to-use interface, NoveList allows readers to use a favorite author or title as a template to locate other authors and titles of interest. Readers can also enter words that describe the contents of a book they would like to read, and NoveList retrieves titles that contain these words in the book's subject headings field. In addition, users can browse over 1,200 theme-oriented book lists, 150 award lists and 1,000 fiction related web-sites. NoveList contains materials for all ages including picture books, children's "chapter" books, young adult titles and books for adult readers. The product's database provides enhanced subject access to over 92,000 fiction titles. Updated quarterly, the NoveList database integrates information from a variety of sources. This is another database where you will need your library card!
Whichbook Whichbook enables millions of combinations of factors and then suggests books which most closely match your needs. Click to open up to 4 sliders and move the to set your choices. With this site you can save reading lists.
What Should I Read Next This site uses authors and books you like to generate a list of titles you might enjoy. Each title has subject tags that allow you to explore other books with simliar topics and themes. One word of caution- clicking on "Buy/More Info" will bring you to Amazon.
Gnooks Gnooks is a self-adapting community system based on the gnod engine. Discover new writers you will like, travel the map of literature and discuss your favorite books and authors. The literature map uses your favorite authors to generate an interactive, moving map of similar authors!