Westwood's Top 100 Books (Adult & YA) for 2018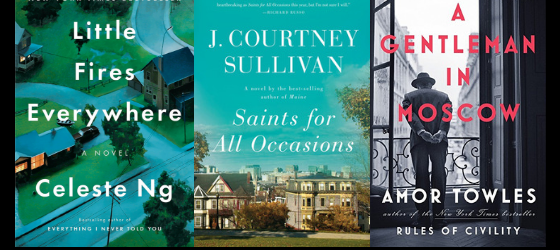 2018 was a great year for books at the Westwood Public Library. We hosted some wonderful authors (and you can expect more author talks in 2019!), expanded our Librarian Book Buzz Panels, and rolled out two new services: ReadNext! Personalized Reading Suggestions and Homebound Delivery! Check out our 2018 Top 100 Titles- not only to see reading trends here in Westwood, but to also get some ideas for your next read!
1. LITTLE FIRES EVERYWHERE- Ng, Celeste
2. SAINTS FOR ALL OCCASIONS- Sullivan, J. Courtney
3. A GENTLEMAN IN MOSCOW- Towles, Amor
4. THE WOMAN IN THE WINDOW- Finn, A. J.
5. THE GREAT ALONE- Hannah, Kristin
6. BORN A CRIME : STORIES FROM A SOUTH AFRICAN CHILDHOOD- Noah, Trevor
7. ELEANOR OLIPHANT IS COMPLETELY FINE- Honeyman, Gail
8. THE STORY OF ARTHUR TRULUV- Berg, Elizabeth
9. MAINE- Sullivan, J. Courtney
10. BEARTOWN- Backman, Fredrik
---
11. BEFORE WE WERE YOURS- Wingate, Lisa
12. BENEATH A SCARLET SKY- Sullivan, Mark T.
13. THE IMMORTALISTS- Benjamin, Chloe
14. PACHINKO- Lee, Min Jin
15. HILLBILLY ELEGY- Vance, J. D.
16. GINNY MOON- Ludwig, Benjamin
17. THE AMERICAN SPIRIT : WHO WE ARE AND WHAT WE STAND FOR- McCullough, David G.
18. MY GRANDMOTHER ASKED ME TO TELL YOU SHE'S SORRY- Backman, Fredrik
19. THE LAST LECTURE- Pausch, Randy
20. DELICIOUS- Reichl, Ruth
21. THE UNDERGROUND RAILROAD- Whitehead, Colson
22. THE WIFE- Burke, Alafair
23. EDUCATED- Westover, Tara
24. TAPESTRY OF FORTUNES- Berg, Elizabeth
25. STILL ME- Moyes, Jojo
26. CLEMENTINE : THE LIFE OF MRS. WINSTON CHURCHILL- Purnell, Sonia
27. THE PRESIDENT IS MISSING- Clinton, Bill
28. FIRE AND FURY- Wolff, Michael
29. THE FALLEN- Baldacci, David
30. CONVERSION- Howe, Katherine
31. THE WOMAN IN CABIN 10- Ware, Ruth
32. MANHATTAN BEACH- Egan, Jennifer
33. NEED TO KNOW- Cleveland, Karen
34. THEN SHE WAS GONE- Jewell, Lisa
35. THE HATE U GIVE- Thomas, Angie
36. LONG WAY DOWN- Reynolds, Jason
37.GREAT SMALL THINGS- Picoult, Jodi
38. THE MUSIC SHOP- Joyce, Rachel
39. THE DEVIL IN THE WHITE CITY- Larson, Erik
40. NEWS OF THE WORLD- Jiles, Paulette
41. THE FLIGHT ATTENDANT- Bohjalian, Chris
42. THE MIDNIGHT LINE- Child, Lee,
43. BLUE EXORCIST- Katō, Kazue
44. ATTACK ON TITAN- Isayama, Hajime
45. VARINA- Frazier, Charles
46. A NANTUCKET WEDDING- Thayer, Nancy
47. THE PERFECT COUPLE- Hilderbrand, Elin
48. THE ALICE NETWORK- Quinn, Kate
49. THE LAST DAYS OF CAFÉ LEILA- Bijan, Donia
50. AN AMERICAN MARRIAGE- Jones, Tayari
51. CARNEGIE'S MAID- Benedict, Marie
52. AFTER ANNA- Scottoline, Lisa
53. BEFORE WE WERE YOURS- Wingate, Lisa
54. LOOK FOR ME- Gardner, Lisa
55. THE ENGAGEMENTS- Sullivan, J. Courtney
56. HOMEGOING- Gyasi, Yaa
57. WHEN LIFE GIVES YOU LULULEMONS- Weisberger, Lauren
58. CLOCK DANCE- Tyler, Anne
59. FEAR : TRUMP IN THE WHITE HOUSE- Woodward, Bob
60. THE ELEGANCE OF THE HEDGEHOG- Barbery, Muriel
61. KILLERS OF THE FLOWER MOON- Grann, David
62. MISS BURMA- Craig, Charmaine
63. THE HIGH TIDE CLUB- Andrews, Mary Kay
64. LABYRINTH LOST- Córdova, Zoraida
65. THE ADDRESS- Davis, Fiona
66. ONLY CHILD- Navin, Rhiannon
67. A HIGHER LOYALTY: TRUTH, LIES, AND LEADERSHIP- Comey, James B., Jr.
68. ALTERNATE SIDE- Quindlen, Anna
69. SHELTER IN PLACE- Roberts, Nora
70. SING, UNBURIED, SING- Ward, Jesmyn
71. IN THE MIDST OF WINTER- Allende, Isabel
72. THE WIFE BETWEEN US- Hendricks, Greer
73. THE HIGH SEASON- Blundell, Judy
74. COMMENCEMENT- Sullivan, J. Courtney
75. THE NIGHTINGALE- Hannah, Kristin
76. GEEKERELLA- Poston, Ashley
77. ORIGIN- Brown, Dan
78. THE PERFECT NANNY- Slimani, Leïla
79. THE DEATH OF MRS. WESTAWAY- Ware, Ruth
80. BLACK BUTLER- Toboso, Yana
81. CRUEL BEAUTIFUL WORLD- Leavitt, Caroline
82. THE TEA GIRL OF HUMMINGBIRD LANE- See, Lisa
83. LILAC GIRLS- Kelly, Martha Hall
84. THE LAST MRS. PARRISH- Constantine, Liv
85. WHAT TO SAY NEXT- Buxbaum, Julie
86. FIFTY FIFTY- Patterson, James
87. THE BAD DAUGHTER- Fielding, Joy
88. EVERY NOTE PLAYED- Genova, Lisa
89. THE SOUL OF AMERICA : THE BATTLE FOR OUR BETTER ANGELS- Meacham, Jon
90. CRAZY RICH ASIANS- Kwan, Kevin
91. I LET YOU GO- Mackintosh, Clare
92. THE ROOSTER BAR- Grisham, John
93. I'VE GOT MY EYES ON YOU- Clark, Mary Higgins
94. BY INVITATION ONLY- Frank, Dorothea Benton
95. DRUMS, GIRLS, & DANGEROUS PIE- Sonnenblick, Jordan
96. CLASS MOM- Gelman, Laurie
97. END GAME- Baldacci, David
98. I'LL BE GONE IN THE DARK- McNamara, Michelle
99. US AGAINST YOU- Backman, Fredrik
100. BEING MORTAL : MEDICINE AND WHAT MATTERS IN THE END- Gawande, Atul